Carriers flying to Mykonos
Discover Mykonos: The Ultimate Guide to an Unforgettable Island Adventure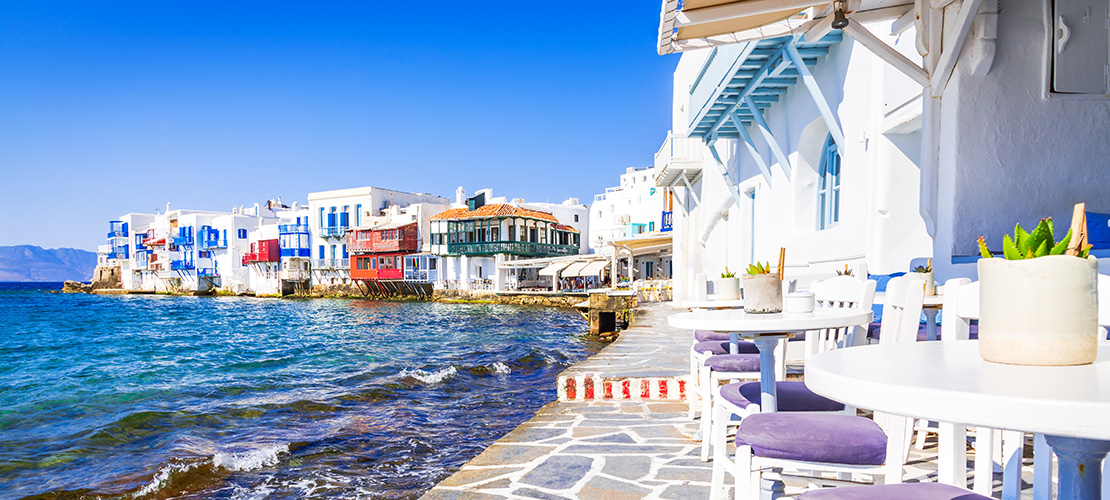 Mykonos, one of the most popular destinations in the Greek Islands, is a perfect blend of picturesque landscapes, vibrant culture, and exciting activities. If you're seeking an unforgettable island adventure, look no further! In this ultimate guide, we will unveil the top attractions and insider tips for an extraordinary Mykonos experience.

1. Stroll through the winding streets of Mykonos Town
Mykonos Town, or Chora, is the island's vibrant heart. Explore its maze-like streets, adorned with white-washed houses, blue-domed churches, and colorful bougainvillea. Visit the iconic Windmills of Kato Mili and Little Venice for postcard-perfect views.

2. Unwind on world-class beaches
Mykonos boasts an array of stunning beaches, each with its unique charm. Party-lovers should head to Paradise or Super Paradise Beach, while those seeking tranquility can relax on Agios Sostis or Elia Beach. For a more adventurous experience, try water sports at Kalafatis or Ftelia Beach.

3. Immerse yourself in local history
Visit the nearby island of Delos, a UNESCO World Heritage Site, to explore ancient ruins and immerse yourself in Greek mythology. In Mykonos, don't miss the Archaeological Museum and the Aegean Maritime Museum to deepen your understanding of the island's rich history.

Use airshop.gr search engine to find the best prices on plane tickets to Mykonos. With direct flights from Athens and Thessaloniki and prices starting from €39, unforgettable Mykonos awaits you!

4. Savor mouthwatering Greek cuisine
Indulge in delicious local dishes at Mykonos' finest eateries. Taste the famous kopanisti cheese, sample fresh seafood at a seaside taverna, and treat yourself to a traditional Greek dessert like loukoumades or baklava.

5. Experience the legendary nightlife
Mykonos is renowned for its lively party scene, with world-class clubs and bars attracting international DJs and celebrities. Dance the night away at hotspots like Cavo Paradiso, Tropicana, or Scorpios, and enjoy mesmerizing sunset views at 180º Sunset Bar.

6. Discover hidden gems and local secrets
Go beyond the tourist trail by seeking out lesser-known attractions. Visit the secluded Armenistis Lighthouse, hike to the summit of Mount Kynthos for breathtaking views, or explore the traditional village of Ano Mera and its Monastery of Panagia Tourliani.

Mykonos is a captivating island that promises an unforgettable adventure. With its diverse attractions, thrilling activities, and rich cultural heritage, there's something for every traveler. Use this ultimate guide to make the most of your Mykonos experience and create memories that will last a lifetime. It's time to embark on your dream Greek island adventure – Mykonos awaits!
Airline Tickets Mykonos
Find cheap flight tickets to Mykonos, searching for cheap flights with all the airlines, which fly to Mykonos. The cheapest flights to Mykonos fast and simple at your computer. Every day we negotiate directly, without intermediaries for thousands of air ticket prices with the most reliable airlines, which fly to Mykonos. Here you will find all the low cost carriers, which fly to Mykonos and the scheduled routes to Mykonos with flights all year long. Direct flights to Mykonos or flights with intermediate stop in order to find the best flight tickets.
The search engine at the top of the page will help you to find cheap flight tickets to Mykonos by filling the departure city and the dates of your trip. If you are flexible at the dates use the +/- 3 days search for more choices. As an alternative, various statistics and links for flight tickets are following to Mykonos. A map, a chart with the prices fluctuation helps you to find the cheapest month to travel to Mykonos, the airlines flying to Mykonos, the weather you will encounter at your destination and the most popular and cheapest flights to Mykonos.
Our goal is for you to easily and simply find the cheapest flight tickets to Mykonos and complete your reservation confidently and safely. The process begins and ends with us!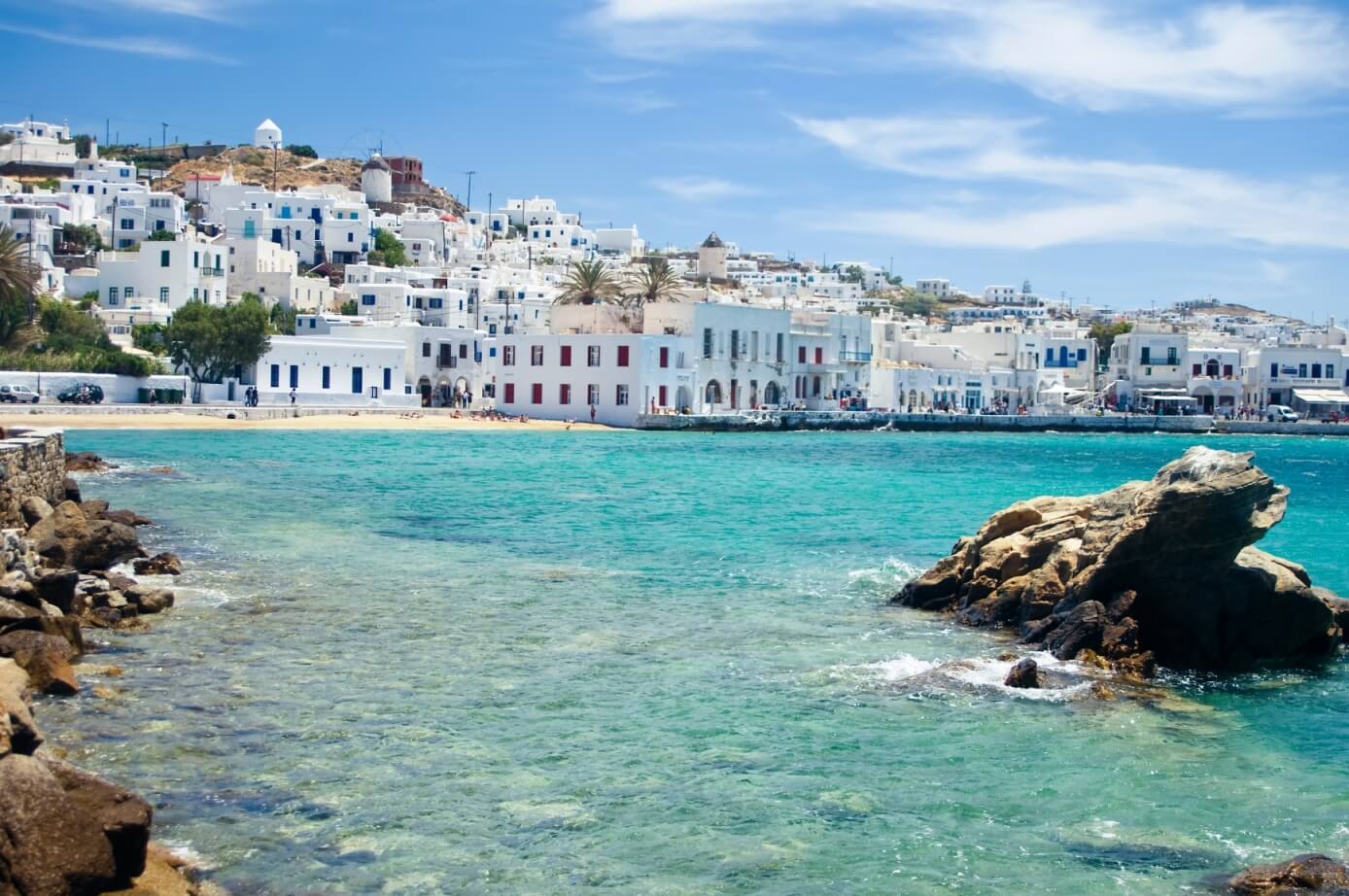 Cheap flights to Mykonos
The itineraries we found with the lowest prices to Mykonos
Departure: 06/06/2023

06:15

Athens

[ATH]

Direct

0h 50mins

07:05

Mykonos

[JMK]
Return: 08/06/2023

23:55

Mykonos

[JMK]

Direct

0h 45mins

00:40

Athens

[ATH]
Departure: 26/06/2023

18:40

Thessaloniki

[SKG]

1 Stop

2h 40mins

21:20

Mykonos

[JMK]
Departure: 08/08/2023

05:00

Larnaca

[LCA]

1 Stop

6h 30mins

06:45

Mykonos

[JMK]
Return: 13/08/2023

12:05

Mykonos

[JMK]

1 Stop

7h 55mins

12:45

Larnaca

[LCA]
Weather forcast for Mykonos